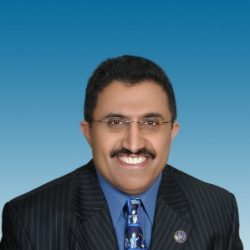 Dr Aayed Alqahtani, FRCSC, FACS, received his medical education at King Saud University , Riaydh Saudi Arabia. He then left to McGill university, Canada and did his general surgery training and obtained his fellowship ( FRCSC) in general surgery from the Royal College of physician and surgeon of Canada and the American borad of surgery (FACS) from the American college of surgeon.
Subsequently he continued his training in Canada at the University of Montreal and obtained his Fellowship in pediatric surgery and the American board of pediatric surgery from the American college of surgeon. In addition to his general surgery, bariatric surgery and pediatric surgery he has specialized training in minimally invasive surgery at McGill universality and in Denver USA.
He then moved back to Saudi Arabia and promote MIS in the country and the region. Dr Alqahtani is currently an associate Professor of surgery at King Saud university, Riyadh Saudi Arabia. He is the director of the University Obesity Research Chair .Dr Alqahtani has Promoted the fight against obesity in the region and has the lead internationally in pediatric bariatric surgery.
Dr Alqahtani has published many articles, chapters and books. He has been the guest speakers in more than 80 national and international meeting, and made over 200 peer-reviewed presentations at national and international meetings. He is faculty member of many national and international training courses and workshop in MIS, Robotic and obesity . He is active in numerous national and international societies, he is a member of the executive board of the international pediatric endoscopic group (IPEG) and he sits on the editorial board of 5 journals and a reviewer in many national and international journal.
departments
: King Saud University
positions
: Advisory Board, Past President
treatments
: General Laparoscopic Surgery, OBGYN Laparoscopic Surgery, Trauma Laparoscopic Surgery, Urolo
procedures
: Nissen Fundo, Sleeve Gastrectomy
degree
: M.D., FRCSC, FACS
office
: King Saud Hospitals, Riyadh, KSA