October 24, 2018 @ 8:00 am

-

October 27, 2018 @ 5:00 pm

|

370EUR – 610EUR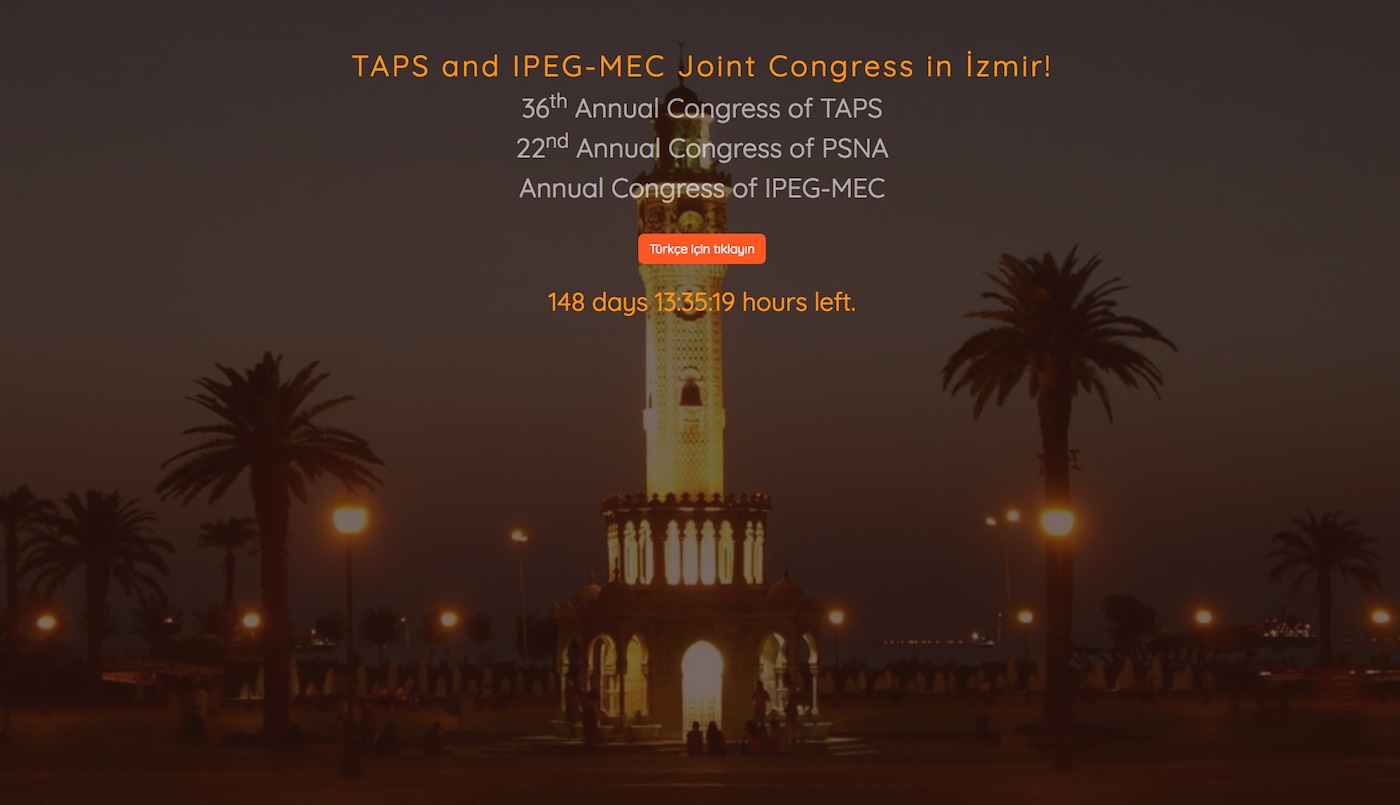 TAPS is delighted to announce that its 36th annual congress will be hosted in Izmir on 24th-27th October, 2018 in association with IPEG-MEC. This year's meeting promises to be an exceptional one with a joint meeting with our long-lasting friends from Middle East. Our nurse colleagues will also be launching the annual meeting of Turkish Association of Paediatric Surgery Nurses in parallel, as usual.
Pre-congress courses will include management of burn trauma, laparoscopy "Basic and advanced skills" course and Bronchoscopy, Upper/Lower GI Endoscopy and PEG. Laparoscopy and endoscopy courses are open also for our colleagues from abroad. The TAPS/IPEG-MEC programme will include lectures, panel discussions as well as, presentations with main topic of Minimally Invasive Procedures in Pediatric Surgery.
In addition to high-quality oral sessions and panels, there will be two video sessions with "Best Video" prize, one session of case reports with "Best Case Report" prize and two poster sessions with "Best Poster" prize. Researches that are nominees for "Prof. İhsan Numanoğlu", "Prof. Dr. Akgün Hiçsönmez" and "Prof. Dr. Nebil Büyükpamukçu" awards will be selected in a private session.
Izmir is one of the most beautiful locations with its warm climate and inhabitants welcoming people from all abroad. Being the city that Victor Hugo once described as "the Princess", Izmir faces and salutes the West while resting on Anatolia with her strong roots and culture. Full of history, full of culture and full of amusement, Izmir will embrace you with all her aspects and hospitality.
The congress venue, Swissotel Büyük Efes, is a luxurious five-star hotel that is set in 12,000 m² of landscaped gardens overlooking the spectacular Kordon on the Aegean Sea. It is conveniently located in the center of Izmir's commercial district, and just steps away from the heart of the city. Adnan Menderes Airport is less than 15 km away from where the direct transportation options are taxi or airport shuttle (HAVAŞ) to the venue and an indirect one with train and metro (IZBAN and IZMIR METRO).
The nightlife is booming in central İzmir where there is something for everyone. Especially for our overseas visitors, we intended to spare enough free time for sightseeing and visiting the historical places worth seeing once in a life-time. There will be various touristic trip options both for in and out of Izmir.
The president of TAPS, Prof. Dr. Orkan Ergün, the presidents of the meeting Prof. Dr. Ata Erdener and Prof. Dr. Aydın Yağmurlu, the general secretaries Dr. Zafer Dökümcü and Dr. Emre Divarcı welcome you, and offer an unforgettable experience and rememberences of the meeting.