November 30, 2016 @ 8:00 am

-

December 2, 2016 @ 5:00 pm
Event Navigation
Annual EPSA Conference Conjointly with IPEG Middle East Chapter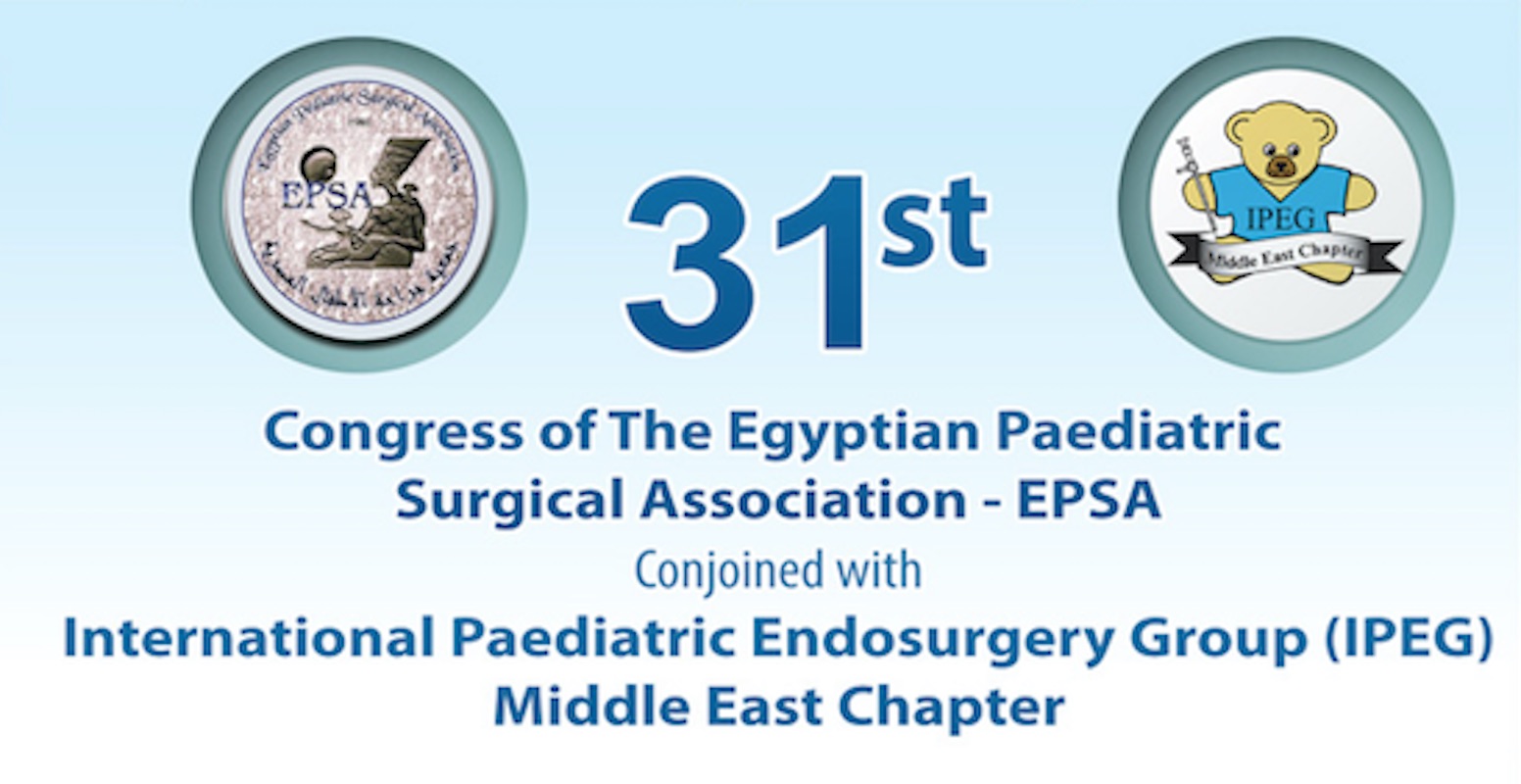 The EPSA 2016 conference in conjunction with the IPEG Middle East Chapter. The Conference will be held November 30th – December 2nd 2016 in Cairo, Egypt at the Conrad Hotel, Cairo.
Here is the link for the conference website http://epsa-ipeg.com/
Here is the link for the Final Program here
IPEG Middle East Chapter Welcome Message:
 The International Pediatric Endosurgery Group (IPEG) is a truly international society where pediatric surgeons from all over the world meet to share knowledge and experience in minimally invasive surgery in children. Over the last three years, we have been working with IPEG leaders to introduce the society in the region. Our aim was to provide a means for pediatric surgeons in the Middle East to share their experience, knowledge and insight and to shine on an international scale. I personally know many great minds that only need tools and support to present what they have to the world, and it was clear to me that having an IPEG chapter in the region is the best way to achieve these goals.
 The Egyptian Pediatric Surgical Association (EPSA) has been the icon of the societies in the region and having our 1st Annual Meeting of the Chapter with EPSA will add value to both societies. It is my pleasure to invite you for our annual meeting that is held concomiantly with EPSA meeting on November 30 – December 2, 2016 in Conrad Hotel, Cairo, Egypt. I am confident that you will enjoy the state-of-the-art workshops and scientific sessions. I would like to thank all colleagues in the Chapter, the board members and the EPSA board members who are contributing to the success of this work. A great thanks to our IPEG leaders and executive director for their great support, and finally, no success would have been possible without the great members of IPEG-ME and EPSA.

President of IPEG, ME Prof. Aayed Alqahtani
The congress will host 4  precongress workshops in Cairo & 1 in Alexandria:
Pediatric Laparoscopy workshop
Hepatobiliary workshop
Plastic surgery workshop
Neonatal surgery workshop
Hypospadias (HYPOALEX)
Deadlines:
Abstract Submission: 1 August
Notification Acceptance: 1 September
Early Bird Registration: 1 October
International Speakers:
Prof. Aayed Alqahtani (KSA)
Prof. Abdulrahman Albassam (KSA)
Prof. Adel Ajneibi (UAE)
Prof. Ahmed Abdalwahab (KSA)
Prof. Ali Mansour (Qatar)
Prof. Enaam Raboie (KSA)
Prof. Holger Till (Austria)
Prof. Joseph Losee (USA)
Prof. Mark Davenport (UK)
Prof. Munther Haddad (UK)
Prof. Paul Tam (Hongkong)
Prof. Prakash Mandhan (Qatar)
Prof.Sean Marven (UK)
Prof. Suad Abdul (Kuwait)
Prof. Tomoaki Taguchi (Japan)
Prof. Zainab Albalushi (Oman)
For inquiries Contact EPSA: